Travel info
To reach Lund, the most convinient airport is Kastrup, Copenhagen (Denmark). It has connections to most of the major cities in Europe and worldwide.
There is a direct train to Lund from the airport taking about 40 minutes. To find the trains to Sweden, look for this sign: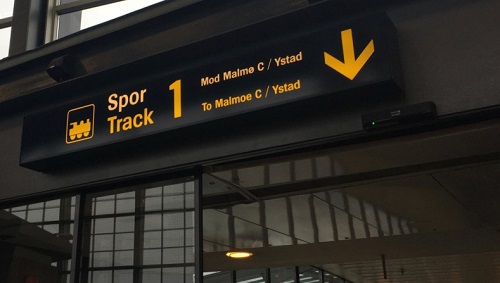 There are both long-distance and local trains stopping in Lund. These include the Öresunds train, the joint Swedish-Danish train system covering eastern Denmark and southern Sweden (so called 'Greater Copenhagen' area). Öresunds train takes you from the Copenhagen airport to Lund.
It is a very good idea to download and set up the app from the local public transport company Skånetrafiken in advance. It is available in Engish, is very intuitive to use and it gives you 10% discount right away:
Download from Google Play here (opens in a new window)
Download from Apple App Store here (opens in a new window).
Note also that the same ticket will be valid for local city buses and trams upon arrival.
The long-distance trains are operated by SJ company. See the schedules and buy tickets on their web page here (opens in a new window).
Local public transport in Lund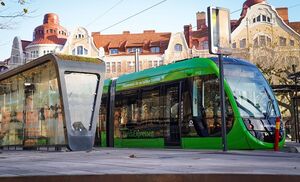 To get from the railway station to the Department of Technology and Society, use the tram line. Your destination stop is called 'LTH'. Your train ticket is valid for about one hour after arrival to Lund, so you can just step on and ride. Otherwise, just use the app to buy a new ticket.
The same is valid for the local buses. Use the app to find the best route and right connections.
Cycling, walking and using e-scooters
Lund is truly a bicycle city where everyone bikes. It is an experince you should not miss. Most probably, your hotel will have some bikes to borrow.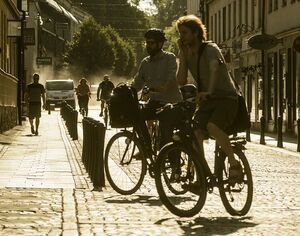 There are several e-scooter sharing companies operating in Lund. There is also a bicycle sharing system called Lundahoj which, however, we DO NOT recommend. It is slowly 'dying out', with old bikes and unbalanced location of the docking station.
If you are moving in the central part of the city, all distances are walkable. It takes only 20 minutes to walk from the railway station to the department.
The university does not have any special agreements with hotels, so use Booking.com or similar services to book your room. Aim at the hotels in the city centre, in this case you will be close to everything. There are also a couple of hotels in the outskirts of the city.
An alternative could be to stay in Malmö, which is a bigger city. There are frequent trains between Lund and Malmö (taking only 10 minutes) and direct buses between the cities passing close to the department. Again, use the Skånetrafiken app to find the best connection.